How Alcatel Mobile achieve 100% growth in web traffic in 12 months
Founded in 2005, Alcatel Mobile is a French brand of mobile handsets owned by Finnish consumer electronics company Nokia and used under license by Chinese electronics company TCL Technology.
Incorporated in Hong Kong, TCL Communication Technology Holdings Limited designs, manufactures and markets an expanding portfolio of mobile and internet products and services worldwide. The company's portfolio of products is currently sold in over 160 countries throughout North America, Latin America, Europe, the Middle East, Africa, and Asia Pacific. TCL Communication ranked as a top-10 global mobile phone manufacturer in the first quarter of 2017.

Challenge
Low website traffic and short average website visiting time

Solution
Website unification by revamping international website with simple and clear style

Result
Generating longer site time visiting
Low website traffic and short average website visiting time
Alcatel delivers innovative, feature-high and consumer-oriented experiences which simplifies electric devices technology, offering a diverse portfolio of value-packed products equipped with the most popular and trendy technology. As we could see offline purchasing channel is no longer the mainstream of mobile purchase, Alcatel is adaptable to the competitive environment by publishing e-commerce platforms. However, Alcatel is an international enterprise which manage over 30+ countries or regions websites, which might result in ineffective website management. Tangled websites hinder the willingness and time spending of internet users to browse the website, triggering failure of boosting sales performance.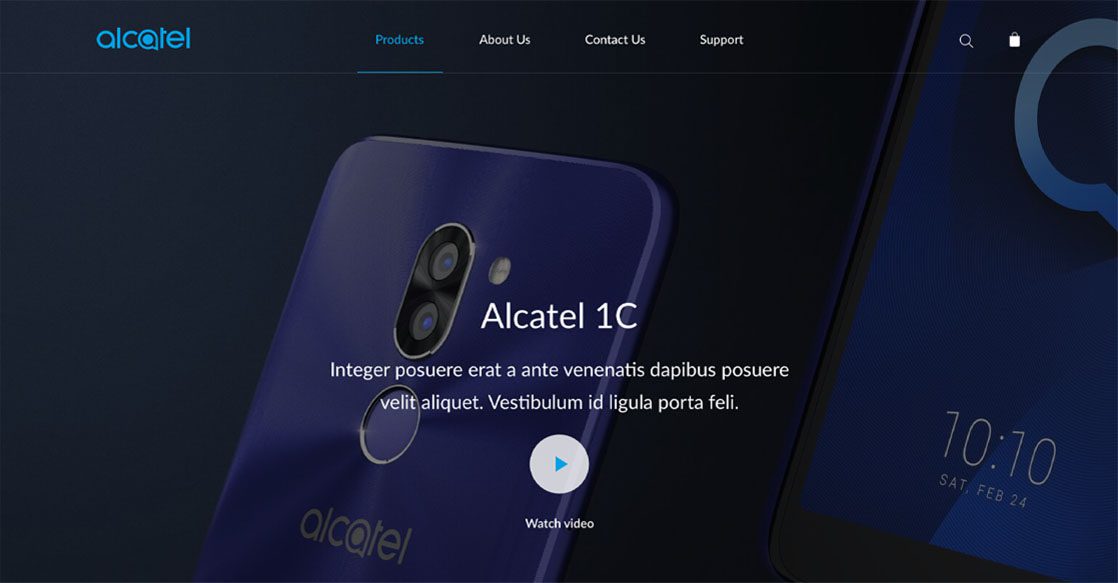 Website unification by revamping international website with simple and clear style
As mentioned above, Alcatel operates 30+ countries and/or regions websites. We therefore migrated and revamped the international landing page for the purpose of unification, merging overlapping pages to simplify web pages structure. Mother site amalgamation is also helpful for creative marketing design and implementation, it is easier to sync marketing content for worldwide. Based on the notion of user-friendly, we are cautious and thoughtful from users' perspective when it comes to UX & UI design, aiming at attracting higher website browsing volume by decent and simple interface presences. Furthermore, we provide website hosting and maintenance services to Alcatel, guaranteeing website smoothness, bug prevention and emergent technical issues solving.
Generating longer site time visiting
The general consumers' experience is levelled up after digital renovation, accumulating longer time-spending on Alcatel official website. There is around average 2 minutes increased per site visitor, which is 5 times as compared to the original site viewing time. The prolonged browsing time spending indicates the success of website renovation and brings higher volume of website traffic, which is advantageous for sales performance encouragement when more audiences are willing to spend more time on product browsing.
Send us your requirements and we'll reply shortly after with a quotation to indicate estimated pricing and timelines. The more information you can share with us at this point, the better!
Have an idea
?

Call 3905 2098 today

!